Hello Advertisers!
Welcome to the World of Weedable
Why Weedable?
Weedable is passionate about cannabis.
Weedable will target the perfect audience for your ads.
Weedable advertising solutions on social, store, and mobile app will expand your reach.
All brands and people are welcome to advertise with Weedable!
Our Ad Solutions Are
Targeted
Select advertising options based on practice area and location
Measurable
Detailed reporting reveals exactly how ads are performing
Flexible
No long-term contracts and no setup fees
Stand Out From the Competition
Solutions to help you achieve your business goals.
Weedable offers advertising solutions on our social network, online marketplace, and mobile App (coming soon...)
Available Advertising Opportunities
Sponsored Listings - Store
Appearing at the top of the marketplace page, sponsored listings are one of the first messages seen by prospective clients.
Target a specific city or zip codes to have your brand show up in the top three spots for all results, businesses, or deals.
Your brand can also target a specific business type such as dispensaries, delivery servcies, doctors, labs, and more!
Why wait? Place your brand ahead of the competition today and start growing your client base.
Display Ads - Store
Featured on the highest traffic pages, Display Ads let you have a custom visual design through templates or you may submit your own design. Display Ads are visible on the marketplace pages and can be geo targeted to any city or zip code across the country. We offer two different size display ads:


Medium Rectangle (300x250)

Bottom Leaderboard (728x90)
Featured Homepage - Store
What to be featured on the weedablestore homepage? Advertisers can feature thier store, deals, and products on the homepage and target any city or zip code. Here is our availability on the homepage of weedablestore:


Homepage Banner

Featured Deals

Featured Businesses

Featured THC Products

Featured Non-THC Products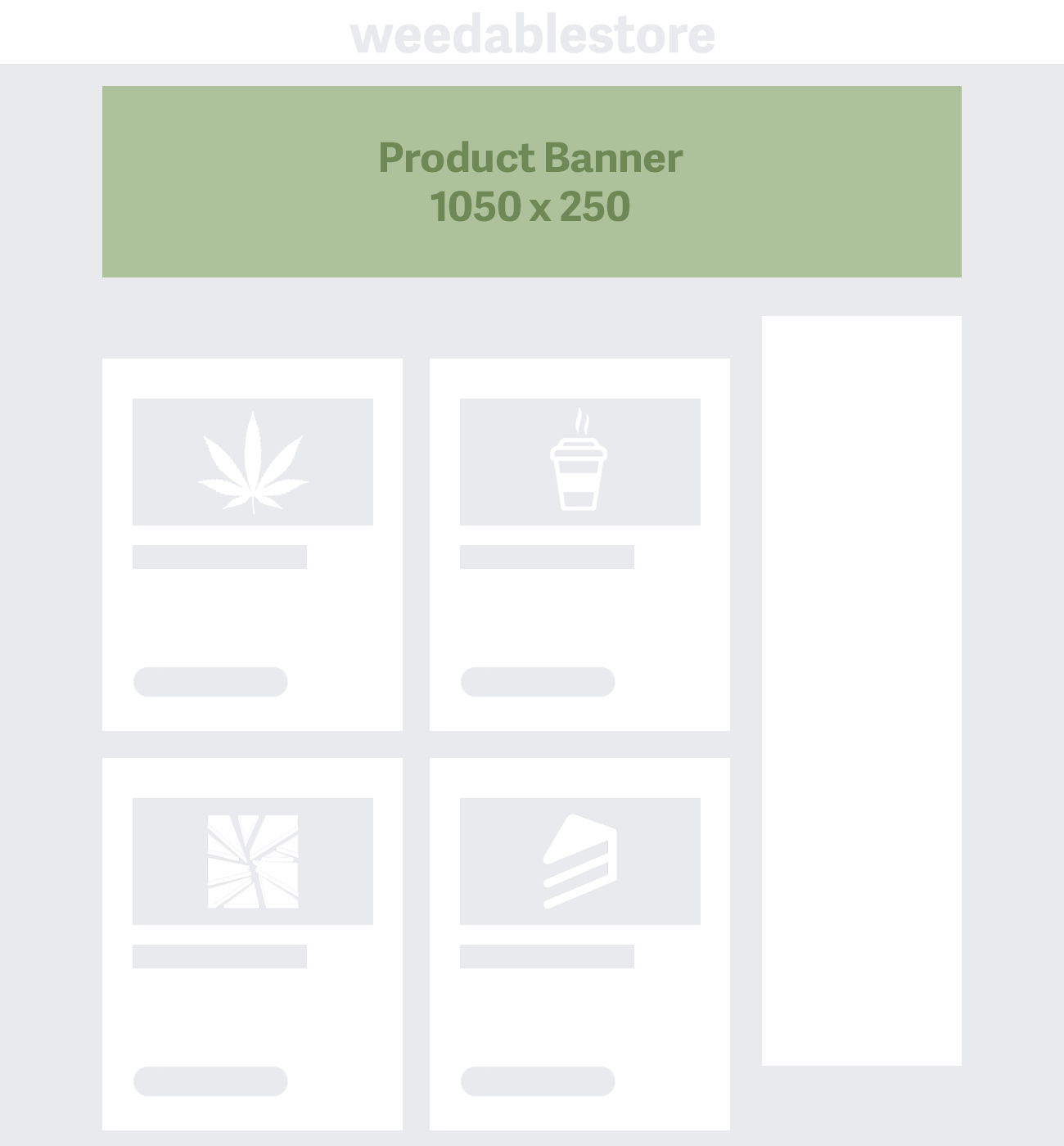 Product Banners - Store
With over 107 product categories and sub categories, the weedablestore product area is a robust and dynamic area for advertisers. You have the opportunity to showcase a Large Billboard (1050x250) across the top of any THC or Non-THC product category. Product banners can be geo-targeted to any city or zip code. Here are some of the available categories you can advertise on:


Strains
Concentrates
Edibles
Bongs
Dabbing
Vaporizers
Featured Blogs – Social
Be bold and make a splash with customers and users on a site-wide basis. The featured blog is a premium area designed so advertisers can make a statement across the social network platform. The blog will be visible on all users profile pages for


Boosted Blogs - Social
Boosted blogs are shown on the main blog page at weedable.com/blog. These are internal ads that look and feel natural to the user. Our ad solutions allow advertisers to place a boosted blog on the top positions of the main blog page. In addition to the home blog page, advertisers seeking to target a niche audience can also place a boosted blog on one of our many category pages, such as Growers, Strains, Bongs, etc.
In addition to targeting a specific page, advertisers may also boost any blog by location, such as city, state, or zip code. We also can target a specific area code for your boosted blog. Advertisers wishing to only target their particular location can do so with our innovative technology. Your boosted blog will only appear in the location you desire.
Give your posts a massive push on engagement. Boosted Blogs are just like regular weedable blogs - just way more visible. Boosted blogs can also targetable by gender, location, and interest.
Businesses like yours help people discover cannabis and non-thc products they want. And Boosted Blogs make it easier for people on weedable to discover you, which can drive results for your business.
It's easy to promote your blogs quickly and easily. What will your success story be?
Weedable 360 - Social Profile
Weedable 360 is all about you. This is a special location we carved out on your profile page just so you can get the message out even better to your followers and friends. We designed Weedable 360 for you. With this technology you can hone in messages for your followers and friends. Your ads will appear in 3 locations on your profile page:
Leader Board (728x90), Medium Rectangle #1 (300x250), and Medium Rectangle #2 (300x250)
Your ads are available only for you and only on your page. Here is how we can target an ad for you:
Geography, Time of day, State, City, Zip or Area Code
Ads can be internal links to your store page or store products, or you can link out to an event, product, or website of your choice.
We offer various packages for you. All packages are based on flat fee with no long term contract or commitment. Use the ads spaces for as long or as little as you desire.
Buyable Blogs - Social (coming soon)
Coming soon...
Sell products directly from weedable social. Buyable blogs allow retailers to advertise their products directly within the main blog. Similar to boosted blogs, but further enhanced to help you sell your products! Use buyable blogs to drive customers to your products on weedable store. Or you can send people directly to your own website & make the sale there. As always, weedable will never take a cut from the sale on an advertiser's website.
Weedable Full Coverage
Buy the site for the day! Certain advertisers want to get out a message that is so BIG it may mean purchasing ALL advertising spots and locations for the Day. Weedable set up a Brand package for advertisers wishing to obtain Full Coverage of the site for the Day.